Dear 575 patients,
We want to reassure you that we will continue to look after you for all your health needs.
We are trying to reduce the number of face to face consultations whenever possible to keep you and our staff safe, and to stop the community transmission of COVID-19. Phone or video consultations are now available for our enrolled patients whenever this is appropriate. For more information about booking phone or video consultations please click here.
During lock down you can:
Attend for urgent health needs (will be triaged immediately). As always call 111 if an emergency.


Book a phone or video consultation via Connectmed or by phoning reception.

Phone reception to book an appointment if you need to be seen by a doctor or nurse for a physical examination or treatment. If you have symptoms and are concerned you may have COVID-19, a doctor will call you back and advise you of a plan.

Request a script by phone, online via this website or via Connectmed when they are due. Scripts will be faxed to a pharmacy or can be mailed home if you have at least 2 weeks supply.

Phone to book your flu vaccine (currently if eligible) to be done in our flu clinic next door.

Phone to book routine vaccinations for your child when they are due. We advise children still come in to be vaccinated on time.
__________________________________________________________________________________________________________
For COVID-19 health advice and information, contact the Healthline team (for free) on 0800 358 5453

For the latest daily update from the Ministry of Health click here
For information from the Auckland Regional Public Health Service click here.
__________________________________________________________________________________________________________
What do I do if I am unwell?
If you are concerned that you may have COVID-19, you have had any recent international travel in the last 14 days or have been in contact with a suspect, confirmed or probable case, please call Healthline on 0800 358 5453 or our practice for advice.
It is vitally important if you have any symptoms of fever, cough, sore throat or difficulty breathing that you advise us when booking your appointment. PLEASE DO NOT COME INTO OUR CLINIC DIRECTLY WITHOUT INFORMING US FIRST.
When you arrive for your appointment please call reception on 09 623 4599 from your car. We will then advise you to stay in your car with your mobile phone turned on so the doctor or nurse can call you.
We have been and will continue to test for COVID-19 according to the up to date case definition at the discretion of the doctor. We will be following latest advice from public health. A suspected COVID-19 assessment is a lengthy process which begins with a phone consultation from the car. The doctor will then do a physical examination wearing protective equipment and may take swabs from the back of the throat through the nose.
We will not be swabbing everyone with respiratory symptoms. We will assess each patient individually and decide whether swabs are indicated based on the latest public health recommendations. For the current COVID-19 case definition click here.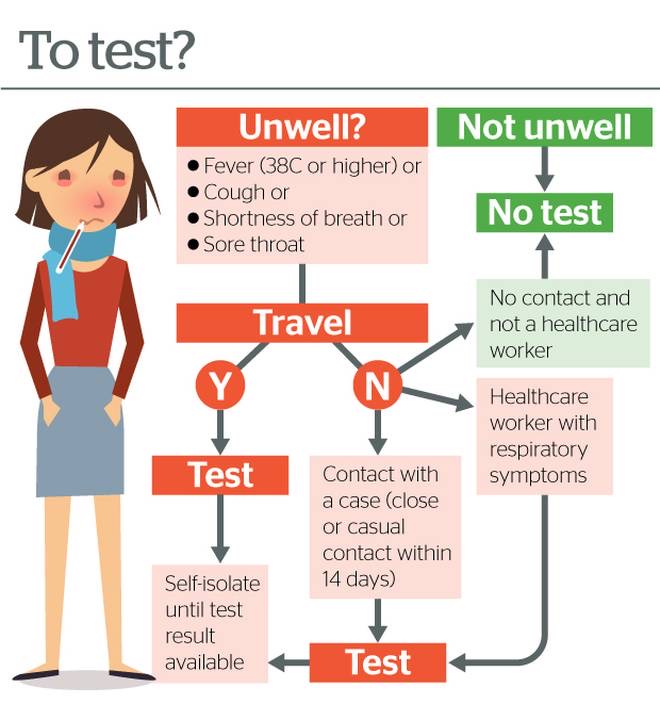 Any patient with severe symptoms will need to be assessed and tested in hospital. We will call the hospital first and arrange for you to be seen as quickly as possible.
If you or your child are needing a return to school or work certificate and you are not very unwell (i.e., you would not normally need to see a doctor), then you can phone for the nurse or doctor to do a letter without being seen. There will be a fee for this service. Please note that you should not go to work or school while you have any fever, cough or cold symptoms and you should return only after you have been free of symptoms for 24 hours. If attending for non COVID-19 related matters, you are welcome to wait outside, but please notify reception of your arrival and where you are planning to wait.


What can I do to protect myself?
It is very important that we 'flatten the curve' to prevent the rapid spread of this virus and prevent our healthcare system from being overwhelmed. Current information shows most people with this virus are not severely ill, although some become extremely sick and need hospital care.
As with other respiratory illnesses, it's important you practice safe hand, cough and sneeze hygiene to reduce the risk of infection.
Frequently and thoroughly wash and dry your hands (with soap and water for at least 20-30 seconds).

After the toilet
After coughing or sneezing
Before preparing food and before eating
After touching "public" surfaces such as handrails, supermarket trolleys.
At regular intervals during the day
Alcohol based hand sanitiser is also a useful alternative option if soap and water is not readily available.

Practice good cough and sneeze hygiene. That means:

Cough or sneeze into your elbow or a disposable tissue, then put used tissues in a bin and wash your hands afterwards.
Carry disposable tissues in your bags/pockets.

Avoid touching your face. Viruses can enter the body through the eyes, nose and mouth.
Social distancing.

Maintain a distance of 2 metres or more away from unwell people.
Stay off work or school if you are at all unwell and do not attend non-essential activities.

There is now mandatory self-isolation for 14 days after any overseas travel.
This is a good time to be prepared and review your emergency kit.
Could you live for 2 weeks on the food you have in storage? If not, it is a good time to stock up on non-perishables like rice, pasta and tinned goods.
Ensure you have at least a 2-week supply of your regular medications at all times.
Keep a supply of cold and flu remedies on hand - some medicines such as Paracetamol can make the illness less unpleasant.
Get your annual flu vaccination – these will be available from early April. We will be informing all patients over 65 years and those with certain chronic health conditions by text when they are available. We will inform you via our website.